We have all had the experience of receiving a poor quality dirty banknote as change for a purchase. Sometimes they will even be issued by a bank teller or worse yet from an ATM. There are many reasons that dirty money is circulated. Most often it is due to a lack of "fit" banknotes required to fill an order from the vault for branch, ATM and commercial customers. Another contributing factor is the growing central bank practice of allowing commercial banks to hold "custodial inventories" This practice results in a reduced flow of banknotes back to the central bank and therefore a reduced rate of destruction for mutilated banknotes.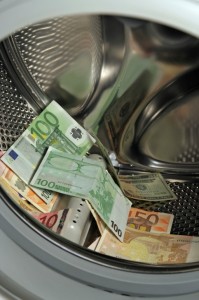 Given the growing number of dirty banknotes in circulation we can only imagine the benefits of self cleaning currency, if that were even a possibility. Apparently self cleaning currency could very well become a reality. During our periodic research into currency related topics, we happened upon a recently awarded patent for self cleaning currency. The following article published on VerticalNews.com summarizes a patent awarded to Spectra Systems Corporation for the necessary technology and processes to make self cleaning currency a reality. Now it will be up to the substrate manufacturers to determine how best to incorporate this technology with their existing paper, linen, cotton and polymer based products.
Spectra Systems also developed the Aeris Banknote Cleaning System – the world's first banknote cleaning technology. Please see the video of the Aeris Banknote Cleaning System at the bottom of this article.
According to news reporting originating from Washington, D.C., by VerticalNews journalists, a patent application by the inventor Lawandy, Nabil (Saunderstown, RI), filed on September 24, 2012, was made available online on April 3, 2014.

The assignee for this patent application is Spectra Systems Corporation.

Reporters obtained the following quote from the background information supplied by the inventors: "The present invention relates generally to substrate materials that include a self-cleaning feature. More specifically, the present invention relates to a substrate that includes a photo-catalytic material therein that, upon exposure to a source of illumination, reacts in a manner that causes the paper, or in general, the substrate material to shed accumulated contaminants and dirt. The process is also effective in disinfection of the banknotes.

"High security documents such as banknotes are generally formed on substrate materials that are frequently equipped with security elements that are difficult to imitate and permit even a layman to check the authenticity of the print or the document. Such security elements can be for example windowed security threads which are visible in certain areas on the surface of the paper of value, applied foils which have a transparent or metallized embossed hologram, blind embossings, so-called 'latent images' produced by printing technology or by printing and embossing technology which render different information from different viewing angles, prints containing optically variable pigments and producing different color effects depending on the viewing angles, or prints comprising metallic effect ink which have metallic luster for example in a gold, silver or bronze tone. In addition to these unaided features, there are quasi-public security threads, fibers and inks which fluoresce or phosphoresce under illumination with UV or IR sources.

"As counterfeiters have become more sophisticated, the security features in such documents have had to become more advanced as well in order to prevent widespread fraud. As such substrates have become more advanced, their cost to produce has also gotten much higher and therefore making the replacement of worn currency quite expensive. Therefore it is important that in addition to being secure, such substrates must have a high level of durability.

"Banknotes have a finite time in circulation due to soling and tearing of the notes in use by the public. Banknotes are handled in many ways during their usable life and experience a variety of mechanical stresses as well as coming into contact with substances that can dirty the notes, making them hard to authenticate and use. One of the major determinants of the banknote life, which is shortest for the lowest denominations, is soiling. Work by the Dutch National Bank has shown that the primary source of soiling is sebum from contact with fingers and which eventually oxidizes and becomes yellow. As a result, durability must be balanced with the other important components of value documents, such as banknotes, is their flat substrate which typically consists predominantly of cotton and cotton-denim mixtures and pulp papers whose typical haptics is also influenced by the one-sided or two-sided calendaring during steel engraving. The haptic character of a bank note is manifested mainly by its feel and its flexural stiffness; it furthermore has a characteristic sound when being deformed and creased.

"In order to improve durability of these substrates, it is known to provide papers of value with a dirt-repellent protective layer to extend the life time and fitness for circulation. Such a protective layer typically contains cellulose ester or cellulose ether for the greater part and micronized wax for a lesser part and which is applied to the bank notes all over. The micronized wax is dispersed by kneading or mixing with oil, an ink binder or a mixture thereof. The sheets freshly printed with the protective layer can be stacked without difficulties without any black ink from one sheet staining the sheet therebelow

"Another coating composition containing only a binder and no fillers is applied to the banknote paper, which has a large surface area or high surface roughness due to its porosity. The composition is applied in a layer thickness such that a smooth surface and thus little possibility for dirt deposit results. Further, the coating is thin enough not to impair the other stated properties of the paper.

"The problem is that known protective layers do not last or wear well. Conventional protective layers comprising water-based lacquers usually fail to completely meet a demanding requirement profile. For example, very good dirt repellence and adhesion quality go against resistance to the penetration of liquid, and vice versa. Water-based lacquers therefore currently meet the high requirements for a protective layer in security printing and in particular bank-note printing only if a second component in the form of a crosslinking agent is added.

"The problem is that central banks need to replace worn and soiled notes at a cost to taxpayers. In the USA, typically, the volume of notes manufactured is in the billions of notes per year (4-6 billion typically). The production of banknotes is costly and particularly so for the higher denominations which have many security features, both for the public as well as machine readable by bill acceptors and the central banks using high speed sorters. Banknote sorters made by Gieseke and Devrient, De La Rue International and Toshiba typically process banknotes at rates of 10-40 banknotes/second and perform a number of diagnostics using sensors in the note path. Theses sensors are a combination of authentication sensors as well as note fitness sensors. The fitness sensors primarily use imaging and analysis of the images to determine if the banknote should be destroyed or returned into circulation.

"The cost of replacing banknotes has led to the development of polymeric substrates such as biaxially oriented polypropylene (BOPP) as well as composite substrates of polymer and paper. These substrates have begun to replace paper banknotes as they claim to have more durability and soil resistance and hence save the central bank money by replacing fewer unfit banknotes every year.

"There is a need therefore for a substrate material that provides high security against fraud while exhibiting increased durability and self-cleaning characteristics. Further there is a need for a substrate that through the use of coatings, inks and additives that are photo-active and catalytic to reactions which are effective in breaking up organic contaminants or dirt. There is still a further need for a system that using a certain class of fitness parameters causes identified banknotes to be redirected to a cleaning module prior to re-evaluation and then a determination that they are either returned to circulation or destroyed."

In addition to obtaining background information on this patent application, VerticalNews editors also obtained the inventor's summary information for this patent application: "In this regard, the present invention provides for substrate materials that include a self-cleaning and directed cleaning capability. More specifically, the present invention provides a substrate that includes a photo-catalytic material therein that, upon exposure to a source of illumination, reacts in a manner that causes the substrate and printing inks materials, to shed accumulated contaminants and dirt and a system for sorting, cleaning and analyzing banknotes formed using such a substrate material.

"In general the present invention employs coatings, inks and additives which are photo-active and catalytic to reactions which are effective in breaking up organic contaminants or dirt. In some cases, photo-excitation of these materials also leads to interfaces which are super-hydrophilic allowing for more water to be split, producing more reactive OH radicals by the photo-catalytic materials and in turn breaking more organic contaminant bonds for eventual removal of the adhered materials (oxidized sebum and other contaminants). Such an effect desirably occurs through exposure to ambient light. The self-cleaning materials incorporated in banknotes can be additionally utilized beyond ambient light exposure using equipment with optical/UV excitation and flowing air, water flow, and mechanical brushes, thus removing soiling and increasing the usable life of banknotes.

"The invention is usable with all substrates and particularly polymeric substrates such as biaxially-oriented polypropylene (BOPP). The invention further discloses a system which allows a certain class of fitness parameters to cause these banknotes to be redirected to a cleaning module, be reevaluated, and then either returned to circulation or destroyed. In addition, inks which are photo-catalytic can be used for extending the life of the banknotes in printed regions.

"It is therefore an object of the present invention to provide a substrate material that provides high security against fraud while exhibiting increased durability and self-cleaning characteristics. It is a further object of the present invention to provide a substrate that through the use of coatings, inks and additives that are photo-active and catalytic to reactions which are effective in breaking up organic contaminants or dirt can be altered by light to allow for the self-cleaning of banknotes by ambient light exposure as well as the cleaning of processed banknotes using equipment with optical excitation, thus increasing their usable life. It is still a further object of the present invention to provide a system that using a certain class of fitness parameters causes identified banknotes to be redirected to a cleaning module prior to reevaluation and then a determination that they are either returned to circulation or destroyed.

"These together with other objects of the invention, along with various features of novelty which characterize the invention, are pointed out with particularity in the claims annexed hereto and forming a part of this disclosure. For a better understanding of the invention, its operating advantages and the specific objects attained by its uses, reference should be had to the accompanying drawings and descriptive matter in which there is illustrated a preferred embodiment of the invention.

BRIEF DESCRIPTION OF THE DRAWINGS

"In the drawings which illustrate the best mode presently contemplated for carrying out the present invention:

"FIG. 1 is a diagram of the present invention as applied to a banknote; and

"FIG. 2 is a schematic diagram of system for cleaning and analyzing a banknote in accordance with the present invention; and

"FIG. 3 is an enlarged cross-section depicting the result of cleaning a banknote in accordance with the present invention."

For more information, see this patent application: Lawandy, Nabil. Use of Photo Catalytic Material for Self-Cleaning Banknotes. Filed September 24, 2012 and posted April 3, 2014.

Aeris Banknote Cleaning System