A Look Inside a Currency Chest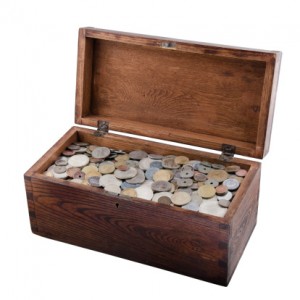 "There are more than 4200 currency chests operated by various banks – both public sector and private – in the country. More than half of these – 2200 – are operated by the StateBank of India." – Counting On Currency was fortunate enough to speak with people inside currency management in India and we got a look inside a Currency Chest. What follows is an unscientifically collected assortment of readily apparent facts.
In a recent post entitled Banknote Custodial Inventory Best Practices we offered a current article that articulated The Reserve Bank of India vision for banknote management. That article outlined what could possibly be represented as centralized banknote management best practices for managing inventory, quality and availability. Many readers responded with varying levels of scepticism as to the effectiveness of word put into action and as I have not visited India myself and can offer no first-hand experience I went in search of someone with boots-on-the-ground experience. From those willing to discuss their experiences, a basic understanding of the realities becomes clear. The notes that follow are truly a look inside a Currency Chest.
A Look Inside a Currency Chest
Security – out of respect for the realities of public information that should be treated as proprietary, suffice to say any European, North American or Asian worker in the banknote management field would voice immediate concerns with common practices – India is a notoriously peaceful country, by most western standards
Shipment and Container Tracking – is non-existent. There seems to be no way to know where individual parcels of money are at when in transit and no readily available indication of pick-up or delivery confirmations
Currency Chest Receiving – a man with a clipboard receives a manifest from the CIT driver and visually confirms container counts
Currency Chest Deposit Processing – deposits are split into two streams – those with a declaration of value and those without. All deposits are processed manually with counters and paper – no computers in evidence
Currency Chest Banknote Quality Sorting – all sorting seems to be done at the single denomination level with lesser regard for standardized quality criteria
Currency Chest Shipping – here is where the fun begins!

apparently good segregation of quality categories (ATM Fit, Fit, Mutilated)
chronic shortage of in-demand ATM denominations
no fore-knowledge of incoming supply and historical outgoing demand
all RBI orders are reactive and traditionally last minute

Computerization – as mentioned above, there were no computers seen in the Deposit Processing areas

more curiously, there were no computers in evidence anywhere!
Although the original article painted a picture of a utopian system, the reality when we get a look inside a currency chest reveals almost an opposite interpretation. No matter what the observations, what exists seems to work. Indeed there would appear to be many gaps in the policy versus the practice and therein lies enormous opportunity for improvement. There simply has to be a real need at the "boots-on-the-ground" level beyond what can be satisfied with warm bodies, pencils and more paper.