ICCOS Asia in Bali was an Outstanding Experience!
"It was an outstanding experience to know more about the cash processing industry and to network with so many experts in the industry" – PT Advantage SCM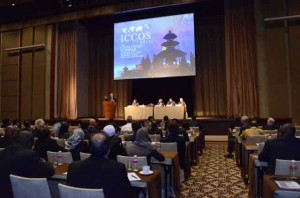 The staff of Currency Research are pleased to announce the successful completion of the Asia Cash Cycle Seminar 2014 which took place in Bali, Indonesia. This seminar brought together central bank, commercial bank, cash management companies/CiT, printwork and supplier delegates for 2.5 days of in-depth discussions, networking, learning and sharing of best practices. The General Sessions helped improve their understanding of the cash cycle and also new technologies and techniques for improving efficiencies within their own organizations.
Stated one delegate from the State Bank of Pakistan: "This has been more like a hands on experience for me where I got first hand practical knowledge on almost all parts of the cash cycle and now I can better present my case [to my organization] for bringing required improvements"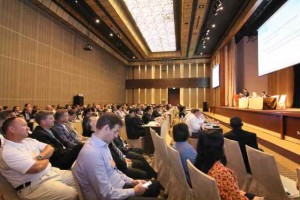 A total of 257 delegates from 119 organizations across 37 countries joined together to listen to the informative General Session presentations and Sponsor Breakout Meetings. Each presentation was met with questions and interest. Some key sessions generated broad discussions across the board including A Case Study in Business Continuity Planning – The Passing of Nelson Mandela which was given by SBV Services. This presentation looked at the contingency planning required for the passing of a beloved leader/figure in a country and analysed what was anticipated and managed from a Cash Management perspective to ensure a steady and reliable level of cash. For any country called home by such a prominent figure, it is important to learn from this experience to ensure readiness at a time of mourning.
A presentation that generated many discussions and interest was The Introduction of New Largest Denomination and its Impact on Cash Management in Korea by the Bank of Korea. This presentation took an in-depth look at the many changes that occurred with the introduction, such as the increased cash demand and the different pattern of currency demand that occurred across different economic agents. After 5 years, the Bank of Korea has been able to look in detail at the differences that occurred and this can help any country as they look at the impact of introducing new denominations.
"This was my first seminar and it was an ear opener as well. I learnt a lot of new things, like out-sourcing and in-house [processing], types of notes that are of interest [and] how we can progress as a nation" – Central Bank of Malawi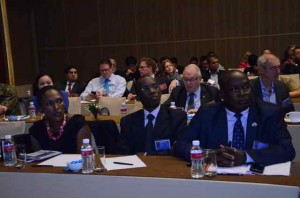 As well as the General Sessions, this seminar saw the first occurrence of the Post-Seminar Symposium: Banknote Production – Where the Cash Cycle Begins. With presentations such as New Series Banknote Production – Decisions Made & Their Impact on the Cash Cycle by Bank Negara Malaysia, Visual Securities for Strong Public Involvement in Authentication by Hologram, Industries and Durable Solutions for Banknotes – Building a Strong Foundation for Your Cash Cycle by De La Rue, there were plenty of opportunities to discover exactly how various considerations put into the design and printing of the banknotes each has an effect on all stakeholders of the cash cycle.
A delegate from the Central Bank of China (Taiwan) stated: "I learned some new perspectives, cost-saving strategies and discussed some issues with peers in the industry"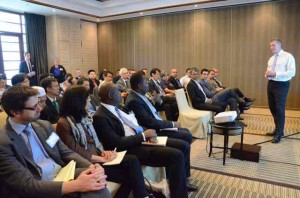 Giesecke & Devrient provided a presentation on Advanced Banknote Architecture – User Orientated Design Meets Functional Banknote Complexity which looked at the considerations that go into making the banknote design and how an integrated banknote design is absolutely essential to make a banknote counterfeit proof, automation ready and fit for circulation in the cash cycle.
As always, the seminar is made stronger by the leading industry suppliers that join it as sponsors. This year was made even better with the largest sponsor group ever. As well as providing a stimulating exhibition, the sponsors also provided thought-provoking breakout meetings with topics such as The Branch is Dead….Long Live the Branch! by Glory Global Solutions, Banknote Cash Cycle Performance Starts with Prudent Substrate Selection by Giesecke & Devrient, Best Practice of Cash Recycling in Indonesia by Hitachi-Omron Terminal Solutions and A Digital Revolution: The Future of Cash Processing? by De La Rue.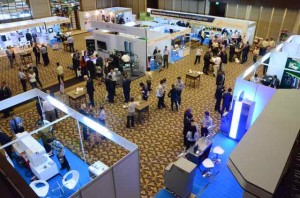 The sponsor group was comprised of Giesecke & Devrient, Glory Global Solutions, Hitachi-Omron Terminal Solutions, the Transnational Group (which consisted of Ampac, CaptureTech, CPI, Gunnebo, Spinnaker and Transnational), De La Rue, IMX Software, NCR, Toshiba Corporation, Transtrack International, Innovia Systems, Morphis, Nautilus Hyosung, Oberthur Cash Protection, SBV Services, SICPA, Hologram Industries and Nanjing Easthouse Electrical and TP Technical Panels.
"It was my first experience and yet I have enjoyed it – sharing information with my counterparts and learning from their experiences, while hearing what the future of cash holds and the innovation from the breakout sessions" – South African Reserve Bank
At the close of the seminar, Mrs. Marci Chavez President of Currency Research announced next year's location – Kuala Lumpur, Malaysia in September 2015! Please ensure you add it to your calendars so that you can attend and join your industry colleagues and peers to learn, network and engage with others to enhance your business and the industry!
"Great participation, attendees from a wide range of areas, very interesting conversations – definitely coming back!" – Travelex
For more information, please visit the website: www.asia.iccos.com.