IACA Excellence in Currency Awards 2015
editor's note:-Â  Excellence in Currency Awards and Currency Hall of Fame… if you did not know already, the currency industry has its own hall of fame and competitive awards program. Both find their home and stewardship with the International Association for Currency Affairs, otherwise referred to by the acronym IACA. IACA is the only industry funded not-for-profit resource and lobby for all industry participants. In addition to research, education and close affiliation with a majority of the world's central banks, IACA recognizes and promotes excellence across all facets of the industry. This year's nominees are listed below. Voting it open until March 13th for IACA Members. If you are not yet a member of IACA, we encourage you to consider supporting our association at a corporate or individual level.
EXCELLENCE IN CURRENCY AWARDS
The Currency Awards program was designed to promote and recognize the excellence in the industry. Sponsored by Currency News and run by IACA, the awards are open to any organization or individual supplying products, systems or services and anyone can make a nomination for a category.
The Award Categories area as follows:
Best New Banknote or Banknote Series
Best New Currency Feature
Best New Currency Innovation, Process or Product
Best Public Education Program
Best Currency Website
Outstanding Achievement or Lifetime Achievement Award
Best New Coin or Coin Series
We are pleased to announce the finalists for the 2015 IACA Excellence in Currency Awards:
BEST NEW BANKNOTE/ SERIES
Banco de Cabo Verde – 2000 Escudos Banknote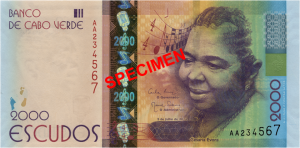 The 2,000 Escudos celebrates Cesária Évora, Cape Verde's most famous singer, who died in 2011, and her genre "morna" music. This theme is integrated beautifully across the print design on both the front and back of the note as well as in each of the security features.
Bank of Israel – NIS 50 Banknote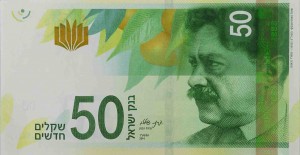 The modern design was successfully combined with all the security features offering an artistic banknote with the latest security features.
Central Bank of Kuwait – Security and Elegance Banknote Series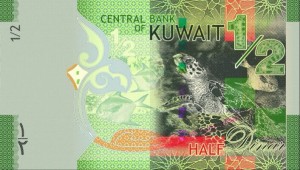 The series is entitled "Security and Elegance" to reflect the use of state of the art technologies, the high quality paper and the elegant and secure design. This is the first re-design of Kuwaiti banknotes in 20 years.
Institut D'Emission D'Outre-mer – New Series 2014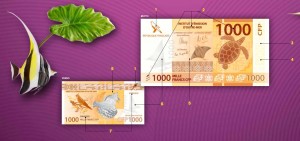 A single banknote series for three overseas territories that enhances, thanks to its designs and patterns, the treasures of the flora and fauna as well as the exceptional cultural and artistic heritage of each territory concerned.
BEST NEW COMMEMORATIVE OR LIMITED CIRCULATION BANKNOTE
Central Bank of Nigeria – 100 Naira Banknote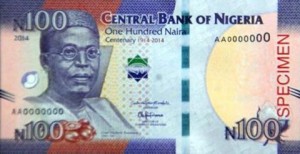 The new note has been produced to celebrate the 100th anniversary of the country. The Central Bank of Nigeria also took the opportunity to improve durability, enhance the security of the note, and to insert an innovative new feature to make it one of the world's first 'smart' notes.
Nardowy Bank of Polski – 20 Zloty Banknote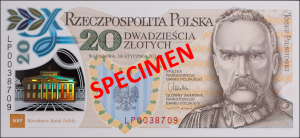 Tradition Meets the Future' – a traditional design by a celebrated Polish artist commemorating an event that ultimately defined modern Poland is honoured through the creation of a Guardian polymer note including three breakthrough security features. The Polish 20 zloty gives a superb insight into future banknote security and design.
Royal Bank of Scotland - 5£ Ryder Cup Banknote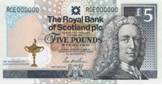 The special edition £5 note perfectly blends traditional Ryder Cup elements with comprehensive and innovative security features. It was designed and developed by the Royal Bank of Scotland as part of the bank's ongoing commitment to Scottish golf.
BEST BANKNOTE PROCESSING INNOVATION
Bank of Canada – Single Note Inspection / Bank Note Lifecycle Analytics
The Bank of Canada implemented an advanced method to inspect every new banknote prior to issuance. Subsequently, each note's unique serial number was linked to its future circulation performance, enabling rich correlational analysis. This represents an innovative, world-leading approach to better understand a banknote's lifecycle (birth-to-death analysis).
European Central Bank – Common Detector Interface
The CDI (Common Detector Interface) establishes a standard way of communication and mechanical interface between different brands of sorting machines and different brands of sensors (detectors) and had become a standard in the Eurosystem.
Travelex Ltd. in partnership with Global Cash Solutions N.V. -Â Taxidiaâ"¢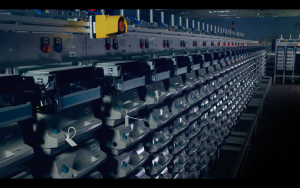 Taxidiaâ"¢ is the only processor in the world that can package both single and strapped notes (100 notes banded together) at a high output rate in any denomination and in over 80 currencies. It also reduces staff costs by up to 80%.
BEST CURRENCY WEBSITE
European Central Bank -Â The euro banknotes multilingual website
Innovia Security -Â Innovia Security website
Royal Bank of  Scotland/Giesecke & Devrient - 5£ Ryder Cup website
BEST PUBLIC EDUCATION PROGRAM
European Central Bank – Second Series of Euro Banknotes (Europa Series)
The campaigns on the Europa Series started in 2013 with the new €5. They aimed at educating the public, cashiers, journalists and partners while putting the banknotes back in their context: the money of the Europeans and reinforcing their emotional link to their banknotes despite the crisis.
The Royal Mint/Royal Mint Museum -Â Coins in the Classroom
To provide young people in the school environment from age 7 to 13 with the opportunity to learn about United Kingdom circulating coinage through a variety of subjects in the school curriculum, including Literacy, Maths, Science, Design and Technology, Art and Design, and Geography.
The ballot is now live.  All delegates from IACA members in good standing are encouraged to vote for the winners.
Access the ballot by clicking here; you will need your password.
Voting closes on March 13, 2015.