Canada Completes Polymer Banknote Conversion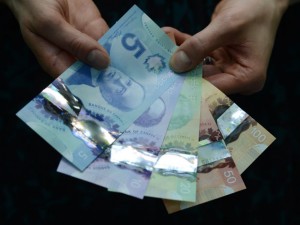 What started as an exercise in reducing exposure to counterfeit while also extending lifespan, Canada has now completed the release of a series of new banknotes that is collectively much more. "Canada Completes Polymer Banknote Conversion" is much more than a headline about a national banknote series refresh.
Canada has now completed the release of it's first series of Polymer banknotes.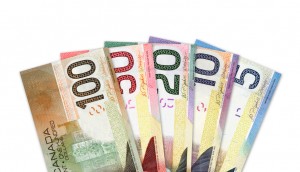 The series incorporates five denominations: $5, $10, $20, $50 and $100. These new notes represent a quantum leap forward in both counterfeit deterrence and banknote longevity. While most central banks are reluctant to publicize information regarding counterfeiting of their national currency, the Bank of Canada is no exception. We support their stance on this topic. That said, These new notes are amongst the most artistically elegant notes I have seen. The manner in which authentication features and art are interwoven is inspiring. Most significantly is the telling of the Canadian story, albeit in abbreviated form through the images used on the reverse of each banknote. Although we have much to say (mostly good, some note so much), we will leave the final words with the Bank of Canada. After all, this is their day to be proud!
Polymer

Polymer Series (2011)

Benefits For You

Polymer notes carry benefits that you'll appreciate as you make those basic transactions of everyday life.

Secure:

Their leading-edge security features are easy to verify and hard to counterfeit.

Durable:

They last at least 2.5 times longer than paper notes, reducing processing and replacement costs and environmental impact.

Innovative:

The detailed metallic imagery carried in a transparent area of the notes makes for one-of-a-kind currency.

Easy to Handle:

The new notes feel different from paper notes, but are just as 

simple to use

.

Life-Cycle Assessment (LCA)

Life-Cycle Assessment of Canada's Polymer Bank Notes and Cotton-Paper Bank Notes – Executive Summary
Read the executive summary of the assessment.

Read the full report prepared by environmental impact experts, PE Americas and Tryskele Sustainable Environment, Health & Safety. The formal life-cycle assessment complied with ISO standards and was vetted by a critical review panel composed of experts on life-cycle assessment and on polymer and paper bank notes.

Better for the Environment

The Bank of Canada commissioned a life-cycle assessment by experts in this field to evaluate changing Canada's bank note substrate from a cotton-based paper to a polymer material, and to compare the environmental impacts of producing and distributing both types of bank notes.

The study examined everything from the impact of growing cotton for bank note paper and of producing the raw material for polymer, through to the destruction and disposal of worn bank notes. The study found that polymer bank notes show benefits over paper notes for all the main phases of the life cycle, including manufacturing and distribution. Since polymer notes will last at least 2.5 times longer than paper notes, fewer polymer notes will have to be manufactured and distributed over the life of the series. Furthermore, polymer notes weigh less than paper notes.

The study examined nine internationally recognized categories for life-cycle impact assessment, including global warming potential and primary energy demands. In all categories, polymer shows improvements ranging from a 29 per cent to a 60 per cent reduction in environmental impact. It shows, for example:

– a 32 per cent reduction in global warming potential
– a 30 per cent reduction in primary energy demand

Recycling

At the time of the study, the Bank of Canada had not chosen a specific end-of-life scenario for polymer bank notes. So, for the sake of modeling, the end-of-life treatment currently in use for our cotton-based paper notes (landfill) was assumed. The Bank has since determined that it will recycle polymer notes once they become worn, which is expected to add to the environmental benefits.
Feel. Look. Flip.

The new $100, $50 and $20 polymer notes are easy to check and hard to counterfeit. They have the same innovative security features that can be seen in transparent areas on both sides of the notes.

Feel

1. Raised ink

Feel the raised ink on the large number, the shoulders of the large portrait and the words "Bank of Canada" and "Banque du Canada."

Look

2. Large window

Look for transparency through the large window containing a metallic portrait and building.

3. Metallic portrait

Look at the details in the metallic portrait in the large window. It matches the large portrait.

4. Metallic building

Look at the details in the metallic building in the large window. Tilt the note to see sharp colour changes in the building.

5. Small numbers

Look at the numbers in and around the large window that match the value of the note. Some of the numbers appear in reverse.

6. Transparent text

Look at the word "Canada." It is transparent and feels slightly raised.

7. Maple leaf border

Look at the maple leaves that border the large window. Some of the leaves cross into the window.

8. Frosted maple leaf window

Look at the frosted maple leaf window to see that it has a transparent outline.

Flip

Flip the note to see the features in the large window repeated in the same colours and detail on the other side.

Added Security

9. Hidden numbers

The hidden numbers are an additional security feature that you can use after checking the other features if you're still unsure that a polymer note is genuine.

The numbers can only be seen by using a small light like an incandescent bulb or a pot light.

WARNING: No light source should be pointed directly at your eye at close range.  Dangerous sources of light, such as the sun, laser lights and many LEDs, should never be used to view the feature.


This feature functions properly only when viewed from the front of the note.

Use a small light that is located about a metre away from you.
Bring the note right up to your eye, until it almost touches your nose.

Look at the light through the frosted maple leaf window.

See a circle of numbers matching the note's value appear through the frosted maple leaf window.
Copyright © 1995 – 2013, Bank of Canada. Terms of Use.