Banknote 2014 April 7th to 10th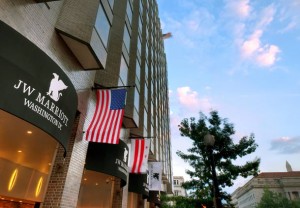 Banknote 2014 April 7th to 10th… if you have not made plans yet to attend Banknote 2014 in Washington DC you had best get registered now as the conference is only one month away. The JW Marriott, in the heart of downtown Washington, DC, will again be the host hotel for Banknote 2014. This venue is ideally suited for the Banknote Conference and is closely situated to the White House, Department of the Treasury, the National Mall and dozens of popular restaurants. As anticipated, the Banknote hotel room block is quickly selling out. Please book your accommodations as soon as possible—hotel rooms will be difficult to find at the last minute in Washington, DC during these dates. Because of the high demand for hotel rooms during this busy travel season in Washington, DC, Banknote 2014 has arranged an additional block of rooms (Courtyard by Marriott Washington Convention Center) for our delegates, within a 10 minute walk of the JW Marriott.
Banknote 2014 April 7th to 10th – Conference Highlights:
Presentations by key international Central Banks involved in the design, production and issuance of the world's leading currencies – Presenters include:

Presenters include Michael Lambert, US Federal Reserve, on the new U.S. $100
Ton Roos, ECB, on the new Euro series
Victoria Cleland, Bank of England, on their substrate decision
There will be many more reflecting the decisions and challenges faced by the Central Banks around the world

The Conference will also feature presentations by the leading companies in the banknote industry

Several of these firms will be introducing new security features that will provide the Central Bank attendees with an opportunity to see and understand the state-of-the-art in banknote protection
The opening Keynote Address will be given this year by William Fox, Global Financial , Crimes Compliance Executive, Bank of America. As a major distributor of cash in the form of paper money through its domestic vault and bank operations and its international "wholesale" operations in over 140 countries, the Bank of America (BOA) is uniquely positioned to discuss the usage and future of cash. The bank is also a major distributor of competing systems, including credit cards, debit cards, and other electronic forms of cash. Mr. Fox will provide BOA's perspective of the future, and how BOA determines plans for each of these markets.
The Conference will also include the presentation of two IACA awards for technical excellence: Â Best New Currency Innovation and Best New Currency Feature.
The organizers will be introducing several new features intended to enhance the delegate's overall experience and to encourage the formal and informal exchange of information between the attendees as well as from all the industry sponsors. We expect that all attendees will find this to be the best Banknote conference yet. We look forward to seeing you at Banknote 2014 April 7th to 10th in Washington DC.
Photos from Banknote 2012