CashSSP Integrated Cash Management System
Hot off the presses (late February) from Currency News comes this inside peek into the CashSSP Integrated Cash Management System, including participants, drivers, solution framework and benefits. We would like to thank Currency News for choosing this article to contribute at this time – in support of our impromptu series on Obsessive Cash Disorder and featuring the Cash Single Shared Platform. The CashSSP Integrated Cash Management System is a  significant example of a successfully implemented and internationally integrated cash management system.
Currency News February 2013
CashSSP – New Contract for 9 Central Banks
On 19 December last year, the nine central bank governors of Belgium, Netherlands, Luxembourg, Finland, Ireland, Cyprus, Malta, Latvia and Estonia signed a new contract for CashSSP – the integrated cash management system hosted by the National Bank of Belgium (NBB) together with De Nederlandsche Bank (DNB). These nine countries have acknowledged that it is getting too expensive to develop and maintain individual national systems and this is why they have chosen to run a common system. The signing ceremony took place at the Frankfurt premises of the ECB.
CashSSP (SSP stands for Single Shared Platform) is a logistical cash management IT system. It provides a common infrastructure which the central banks can use to save costs and harmonise cash handling in their exchange of notes and coins with their commercial banks and CIT companies.
The origins of CashSSP lie in a major business process re-engineering project that the NBB undertook in readiness for the euro launch, to do away with the paperwork associated with cash distribution and to enable all deposits and withdrawals to be undertaken electronically.
The system offers complete functionality to track and trace lodged and withdrawn currency, and interfaces with existing banknote processing machines, general ledger applications, accounting systems and local and global payment systems. As well as handling orders and deliveries of cash, vault management and note and coin accounting, it also provides statistics on cash for the European Central Bank.
Indeed, one of the major objectives of the system, besides flexibility and user-friendliness, is to stay in line with ESCB (European System of Central Banks) standards and regulations, as well as other international standards if applicable. To this end, CashSSP supports one of the two  ECB standards (tracing code and XML-formats), CIS2 (Currency Information System 2) reporting, EXDI (data exchange between National Central Banks) over Corenet V3 and the NBB, as the service provider, is actively contributing to the ESCB Shared Services domain. On the occasion of the recent roll-out of DECS (the European Data Exchange for Cash Services), all nine CashSSP partners were immediately DECS-compatible, with the  investment costs shared between them.
Marc Vanvooren, NBB's Chief Cashier who has been involved in the development of CashSSP from the outset, believes it is the only central bank to have developed a modern central bank cash management system, succeeded in deploying it to other central banks and successfully hosted and serviced the application centrally. 'A rare, even unique, example of a successful bottom up harmonization and cost sharing in the world of central banks.' he said.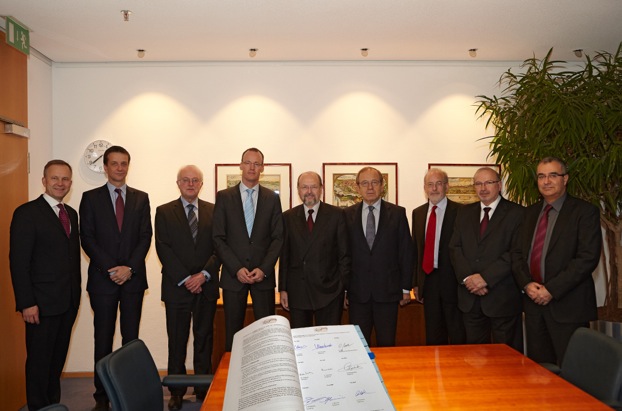 Caption: From left to right at the CashSPP signing ceremony in Frankfurt are central bank governors Liars Rimsevics (Latvia), Ardo Hansson (Estonia), Serge Kolbe (Luxembourg), Klass Knot (Netherlands), Luc Coene (Belgium), Erkki Liikanen (Finland), Patrick Honohan (Ireland), Panicos Demetriades (Cyprus) and Josef Bonnici (Malta)