It was good to see a recent report by Cash Services UK that indicates cash is king in the UK. It is actually somewhat amusing that at the same time non-cash payment companies are frantically trying to convince us that cash is all but dead, along comes yet further research that undeniably  proves cash is still our favourite payment method from many purchase types.
We are please to present the research findings of Cash Services UK fro your review. Cash Services UKÂ acts as a focal point for the provision of strategic direction on co-operative (non-commercial) issues for cash. The overall aim of Cash Services is to ensure that cash can circulate efficiently and effectively, and risks in the cash cycle are managed to this end. As a membership organisation to provide strategic direction for the collaborative elements of wholesale cash management in the UK; facilitate effective collaboration and risk management; promote effective communication with retail and other key stakeholders. Their key objective is to assist the distribution of authentic banknotes and coin of the right denomination to meet public demand.
Cash is King in the UK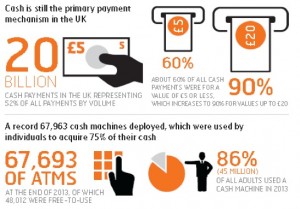 Cash is the primary payments system in the UK and the planned modernisation of the currency by both the Bank and Royal Mint underlines the continued importance of cash to the UK economy. Cash is highly valued by consumers from all walks of life for its familiarity, wide acceptance and speed of transaction.
Cash is still the most used payment instrument in the UK representing

52%

of all payments

(55%)

Cash is the dominant instrument for low value payments
Cash is widely used, even where other options are available
Consumers who prefer cash are diverse
In 2013 there were

19.9bn

cash payments made in the UK

(20.6bn)

Cash represents £

260bn

(approximately 20%) of consumer spending

(£265bn) 
NOTE : 2012 HIGHLIGHTS IN REDÂ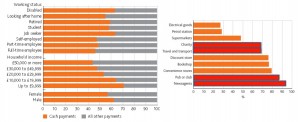 Virtually all of us use cash for some of our day-to-day purchases and for a number of people cash is all that is used. Cash is a convenient and very widely- used payment method, especially for low value transactions.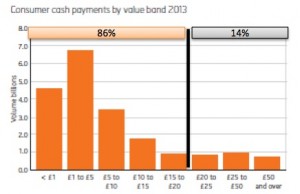 For many people it meets their needs better than electronic methods due to the tangibility, anonymity and instantaneous transfer of value. Although card acceptance has been growing, as has the number of payments initiated through internet and mobile banking, the total number of electronic payments remains small compared to cash.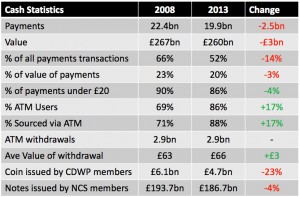 Non-cash payments are expected to overtake cash in 2015

It is projected that cash payment volumes will fall from

20bn

in 2013 to

13bn

by 2023 (30%)
It is projected  that the value of cash payments are predicted to fall by£9bn (4.5%) to

£251bn

It is projected that ATM dispenses will fall by 0.3bn (11%) 

By 2020 and certainly by 2025, electronic payments will have matured to be even more secure and easy to use, available to everyone, pretty much everywhere, almost all the time
By 2025 42% of British peoples think that they won't need a purse or wallet
In spite of a wide range of electronic currencies, and electronic ways of paying, coins and banknotes will still be in common use
Find the full report here.
Read a similar report from the US Federal Reserve Bank